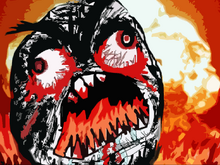 Rage Mode is thought to have been pioneered by Lord Craftiegreen in the late 1.6s.
Did you touch my stuff?
HOW MANY TIMES DO I HAVE TO TELL YOU NOT TO TOUCH MY STUFF!
STUFF YOU! GET THE AWAY FROM ME, BEFORE I STAB YOU IN THE FACE!!!
Those who experience rage mode will often make clench their fists for extended periods of time, and have been known to simultaneously cry. Persons who suffer from extreme rage mode are often referred to as having a temper or a piece of  brown wool(as in, "<insert name here> is a real piece of brown wool, who should drop dead right away").
Rage Mode in History
Edit
Rage Mode was first discovered by the CRAFTIEGREEN, of Epsilon University. The discovery was made by The stationary man. In 1.7, it was discovered that Rage Mode had made an Rage Mode machine to gather all the nego-energy in the Bockverse, compress it, and send himself back through time to Nega-malia (the world of rage)! He then teamed up with the residents to create a nego-ortal to bridge the current world as we know it to this highly negative universe. Hence the subject of rage is a paradox.
Lord Craftiegreen was born in AHHggghhh, CReativia, in 1.4. He was a quiet boy until one day his pent up rage exploded forth, permanently locking his mouth and eyebrows in an expression of complete and total rage. Nearly all of those who he came in contact with became extremely angry.
Community content is available under
CC-BY-SA
unless otherwise noted.