A deeply wise Shadow arts master, Duskhound is. Often as the "Student of cratiegreen" refereed to he is. Speak in object-subject-verb word order to confuse his stu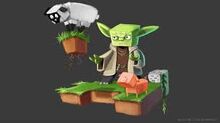 dents, Duskhound would, for some reason which explained, is not. Manner of such speaking being used in this article, it is. Irritating, is not it? Flawed not however, Duskhound was. Later, assume the mentoring of Darth Vader and Ling he would.
- It is not full understood why the person writing this article is talking like yoda....maybe he is yoda.....-
Biography of Duskhound, here is
Edit
Life, early it was...
Edit
In the happy year of shall not be named for legal puposes, born on Duskhounds world, he was. A member of duskhound's species, was he. Dictums of wisdom his first words being, "I pledge alligance to the state and nation of the empire of creativia" as supposed to. A shadow arts master, Dusk eventually became. By now I, tired of talking this way, I was. Stop unfortunately, I could not.
Die, Dusk does not
Edit
the failed death of dusk was, indeed yes. Peacefully, dusk wished not to die. Quietly, dusk wished not to die. fulfilled were these wishes. While not-dying Dusk was, ask stupid questions about shadow arts, Ling did. Escape ling's annoying rambling, Dusk finally did. Earned it he had.
Community content is available under
CC-BY-SA
unless otherwise noted.